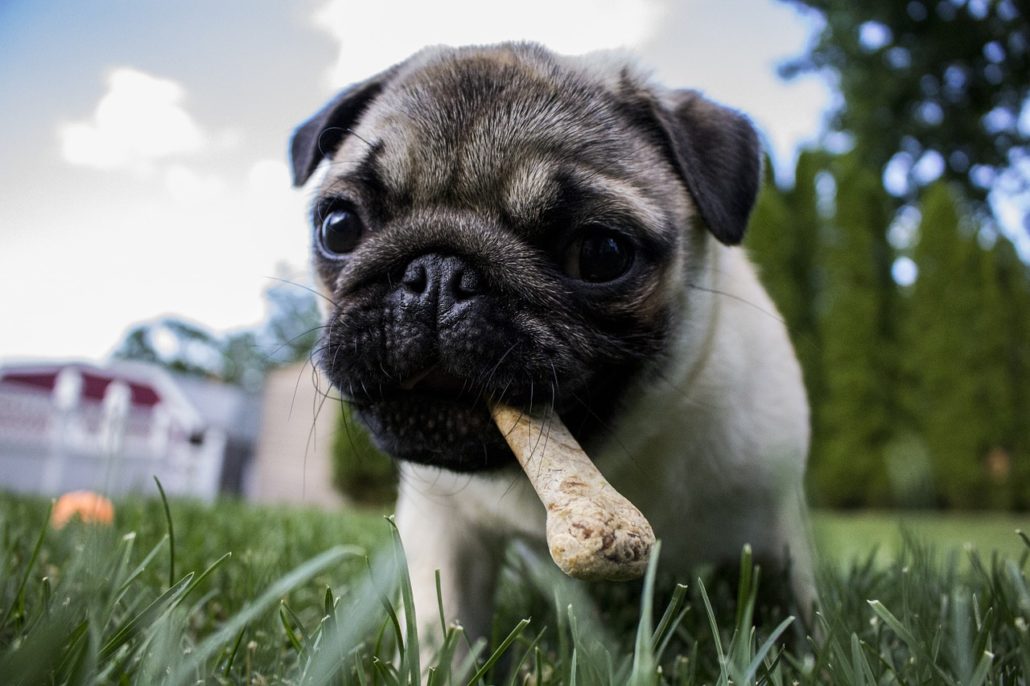 Making your own dog food and treats not only eliminates the "unknown" ingredients but is also more cost effective. "Who has time for that?!" you're thinking. Your homemade dog food doesn't have to be fancy, let's face it, most dogs will eat anything! The main goal here is to make food that is HEALTHIER, not fancier. Many recipes are super easy, with only 4-8 ingredients that you probably already have at home. They can also be made in large batches and frozen for later consumption.
Research has shown that the chemicals and preservatives found in dog food and treats can cause harm to their brain, impede behaviour, and even cause aggression in some cases. According to www.petsafe.net, an international pet food crisis was to blame for kidney failure causing death in cats and dogs in 2007 because of melamine contaminated food from China. This grain by-product is a cheap alternative to protein but is a component of PLASTIC!
The best way to eliminate fillers, chemicals, and hormones from your pet's food and treats is to make your own so you know exactly what is going into it. We try to be conscious consumers by checking labels, monitoring salt and sugar intake, and monitoring processed food intake for ourselves, so why not do the same for our little fur babies? Here are the top 5 reasons you should give making your own pet food a try:
THERE ARE FAR TOO MANY RECALLS
In the first 6 months of 2017, there have been more than 15 recalls on dog foods and treats in North America. You can sign up to have these recalls delivered right to your inbox from Dog Food Advisor: https://www.dogfoodadvisor.com/dog-food-recalls/. These recalls occurred because of "possible chemical contamination", "possible salmonella", and one even says "product may contain elevated levels of naturally occurring beef thyroid hormone".
The reality is we cannot control the ingredients in these foods and treats, nor does every single person who purchased them receive the recall notice. The best way to avoid them is to make your own food and avoid purchasing commercial food and treats as much as possible.
YOU CAN TAILOR THEM TO BE HEALTHIER
Homemade dog treats are healthier because you can tailor them to your pet's specific dietary requirements. If you have an overweight dog you might try making heart healthy snacks. You can also try ingredients that will help keep your dog's teeth and gums healthy. Commercial chews are usually made from starches that are gummier and have the opposite effect. You can add in more vegetables and make crunchier treats which will aid in removing build up on their teeth. With the help of websites like www.balanceit.com, you can create custom meals based on your pet's dietary requirements.
YOU CAN SAVE MONEY BY MAKING THEM AT HOME
You get what you pay for when it comes to most things in life and dog food is no different. If you're looking for chemical-free, grain-free, and hormone-free treats you better start saving your pennies. Since you can choose which meat you are using, watch for sales and markdowns at your local grocer. Pair up with a friend and make a double batch to save even more. By making your pet's food at home, you can save yourself money.
YOU CAN LEAVE OUT THE FILLERS
YOU CHOOSE WHAT'S IN THEM! Wanna add some omegas? Go ahead! Thinking of adding in glucosamine? Go for it! (Always check with your vet first!) You can make their food and treats super tasty with their favourite foods while maintaining the nutrition level their body needs! Some common fillers you could find in your dog's food and treats are soy, wheat, corn, nut/seed hulls, citrus pulp, modified corn starch, weeds, and feathers. FEATHERS?! Dogs are not able to digest grains very well, so these fillers can be very harmful and lead to obesity and diabetes. They will leave your pet feeling full but they truly aren't receiving much, if any, nutrition.
As you can see, doing your homework when purchasing pet food and treats is important to avoid unnecessary fillers and chemicals. It is equally as important to do research into the appropriate portion sizes and ingredients when making your pet food at home. There are so many easy recipes online for making your own pet food and treats. If you don't know what foods are best for your dog's breed, talk to your vet; they can give you good direction on how to maintain a healthy, balanced diet for your pet.
Here's an example of a dog food recipe:
INGREDIENTS:
1 1/2 cups brown rice
1 tablespoon olive oil
3 pounds ground turkey
3 cups baby spinach, chopped
2 carrots, shredded
1 zucchini, shredded
1/2 cup peas, canned or frozen
DIRECTIONS:
In a large saucepan of 3 cups water, cook rice according to package instructions; set aside.
Heat olive oil in a large stockpot or Dutch oven over medium heat. Add ground turkey and cook until browned, about 3-5 minutes, making sure to crumble the turkey as it cooks.
Stir in spinach, carrots, zucchini, peas and brown rice until the spinach has wilted and the mixture is heated through, about 3-5 minutes.
Let cool completely.
Here's an example of a super easy dog treat recipe:
Ingredients
32 ounces vanilla yogurt
1 cup peanut butter
Directions
Melt the peanut butter in a microwave safe bowl
Combine the yogurt and melted peanut butter
Pour the mixture into cupcake papers
Place in the freezer
http://petcitycanada.com/wp-content/uploads/2017/06/Logo-Final-JPEG-495x400.jpg
0
0
jill
http://petcitycanada.com/wp-content/uploads/2017/06/Logo-Final-JPEG-495x400.jpg
jill
2017-07-29 19:35:43
2017-07-29 19:35:43
Top 4 Reasons You Should Try Making Your Own Dog Food and Treats