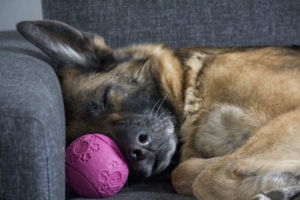 Perhaps you are one of the lucky ones, packing your beach bag and a book to head for a tropical vacation this cold holiday season.  Or perhaps you are one of the unlucky ones and have to travel to Northern Canada where it is even colder, to visit with your nitpicky in-laws over Christmas.  Regardless, if you are going away over the holidays it doesn't always work to bring your furry friend with you.  Often, dogs get lucky in the summer and get to tag along for family camping trips at the lake, but the holiday season is a more common time where travel is focused on visiting family afar or a sunny vacation destination, in which it is not possible to bring the family dog.  Dog owners are often perplexed as to what to do with their pets in these situations, trying to ensure the most positive experience for their dog during this separation.  There are many options available, but the two most common scenarios are in-home pet-sitting, or to board your dog at a kennel.
Pet-Sitter
First, a pet-sitter can come in different forms. A pet-sitter could simply be asking a close family member or friend to take your dog for the time you are away. Your dog would pack his suitcase with his bed, food, leash, favorite toy, and medication, if required, and go for multiple day sleepovers at a friend's house.  This scenario is likely the most cost-effective way of finding care for your dog and is simple as you don't need to do a complete background check for the caretaker of your precious fur baby. Chances are your dog would already be familiar with this pet-sitter and maybe even the environment.  You would be able to pack your own bag and leave on your jet plane with ease of mind. However, not everyone has the luxury of knowing someone kind enough to take on such a responsibility.
Alternately, there are people (like us!) that you can hire as a pet-sitter.  This would often be done in your own home in which a professional pet-sitter would come to your home while you are away.  At Pet City Canada, we come to your home ahead of time to meet your pet(s) and make sure our pet sitter is a good fit for you and your pet(s).  This option is also favourable as it doubles as a house-sitter and keep your home secure and safe while you are away.  If you have more than one dog, chances are it will be easier to hire someone to come to your home than shipping multiple dogs to a friend's house. Also, for dogs that are nervous with new places this option keeps them secure in their own familiar environment, with their regular routine, toys, sounds etc.
Boarding Kennel
A boarding kennel is another option available. This type of boarding is very different than pet-sitting and once you look around at different options, you will find kennels vary greatly between themselves, as far as the environment goes, and what is offered and/or available to your dog.  Basically, a Kennel is a larger environment which provides temporary housing for animals (typically cats and dogs) for a fee. Kennels typically are very busy and offer room to run around and play indoors and outdoors.  This environment will keep your dog entertained and exercised, and likely will have 24-hour staffing on-site.  A kennel is better suited for dogs that are already socialized, have basic obedience training in place, and due to the number of dogs in care at a time, are up to date with their vaccinations.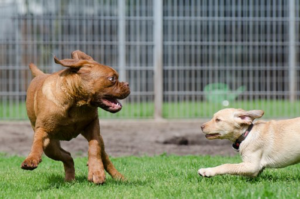 Kennels are like hotels and in essence, could be rated on a 1 to 5 scale with stars depending on the extra luxuries and frills that are offered.  A variety of amenities that could be available include picking up and dropping off, daily walks, toys available, included obedience training, grooming before going home and of course the option of having a plush blanket available.  Perhaps 1000 count sheets on the doggy bed are available at a 5 star kennel?!  It's up to you as a responsible dog owner to decide which star rating would be most appropriate for you and your dogs needs, but there are a few critical things to look for when choosing a kennel including the cleanliness of the overall environment, whether there is proper ventilation in place, if there is caring staff on site, and how many staff are available at any given time.
Now you know the basic differences between kennels and pet-sitters, how do you decide?  The following items are what you need to consider when making this decision:
Needs of your Dog – Does your dog have separation anxiety and needs to be in a familiar environment? Is your dog used to more one on one attention?
Health of your Dog – Does your dog need regular medication? Does your dog often require trips to the Veterinarian for ongoing health issues?
Personality – Does your dog like to be busy or prefer a quieter environment? Does your dog do well with other dogs and people?
Owners Desires – While us dog owners may love to know our pups are snuggled up in high thread count cotton at night, quite honestly these frills typically don't mean anything to your pup. So choosing the number of fancy frills available to your pup is for what you as a dog owner desire for them to have in your absence.
Cost – Likely there will be a cost difference between your neighbour's teenager staying at your place for a few days and sending your crown wearing golden retriever to the 5 star Pet Resort. Clearly, cost will be something to consider when choosing appropriate temporary care for your pet that suits all your needs.
Key Things to Consider When Booking your Pet's Care
References – When leaving your Dog in care of someone you don't know, ALWAYS check references. You want to ensure this individual/business is equipped to deal with this responsibility and is a good match for your dog.
Provide Relevant Information – It is also important to ensure you educate your dog's caretaker on any relevant information about your dog such as behavioral concerns, health issues, medication requirements, and dietary requirements to ensure your dog will be in the best care possible.
Contact numbers – Always leave detailed contact information with the care provider so they are able to contact you, if required, your veterinarian and even a back up care provider in case they are no longer able to watch your dog while you are away due to an emergency.
Dog's Comfort Level – When possible you want to do what you can to make sure your dog will be as comfortable as possible in your absence. Bringing them for a trial stay at a kennel or pet-sitters home will make the next stay more comfortable.
Book in Advance – As you can see there is a lot of things to consider when looking for appropriate care for your dog before you head for the white sand and warm water, so do your research ahead of time and book in advance to limit the stress!
We're expert pet sitters and have experience minding more than dogs! We've taken care of reptiles, birds, cats, and rabbits (to name a few!). If you have any questions about in-home pet sitting, please don't hesitate to contact us.
http://petcitycanada.com/wp-content/uploads/2017/06/Logo-Final-JPEG-495x400.jpg
0
0
jill
http://petcitycanada.com/wp-content/uploads/2017/06/Logo-Final-JPEG-495x400.jpg
jill
2017-12-13 04:35:48
2018-01-15 19:06:32
Kennel vs. Pet-Sitting – What to do with Your Dog While on Christmas Vacation